The right tool for the job
June 2, 2008 | 10:46 am
I was enjoying my lie in on Saturday morning when I was rudely awaken at 07:30 by the sound of a lawn mower coming from the front of our house. The strange thing is we don't have any neighbours with a front lawn.
I looked out of the window to see someone cutting our neighbours hedge with a Flymo lawnmower! Sorry about the photo quality – I only had my phone on me and just snapped a quick pic (click for larger).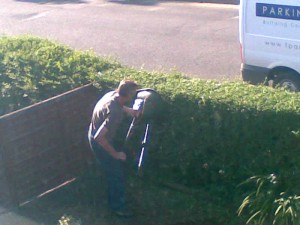 Not exactly the right tool for the job, but to be fair to him, the finished result was ok!
Our main problem with it was we were woken up before 8 on a Saturday morning – Abby was not happy at all!