October 12, 2009 | 5:20 pm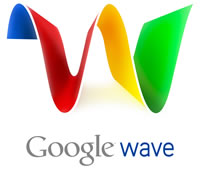 Having won the Phandroid competition giving away an invite for the Google Wave preview, I now have a Google Wave account! The problem is I can't try this out without any contacts, and I can't add any contacts because it won't let me invite anyone.
I thought I would put this out there as there must be other people in similar situations. If you have an account, but no-one to "wave" with, feel free to add me and we can try it out. You could also add your details to the comments to invite others to contact you too.
My Google Wave address is (I think) [deleted – see below] (is there such thing as a waveto: url?). Feel free to say hi!
Please note I am not offering invites (yet). I haven't been given any, and I already have people queuing up for them!
[Update 2009-11-03]: I've had a great response to this post, and don't have time to converse with all the new contacts I've made! Instead I'll publish the wave address of anyone who would like me to. Just leave a comment.
People who've sent me their addresses. All at username@goolewave.com:
lucasmaia.df
mouse.bpk
anthony.kempton
suspenf
vinnybogan
mr.rednas
asimic91
owenmadaeen
ryanhelper
stevebergtexas
mike.krasny
d3adbutt3rfly
josh.orr
jase3609
promanex
syamsulstar
swaney3
skippa25
krishnarajster
Feel free to contact any of these people – they're looking for contacts. If you want to me added to (or removed from) this list just let me know below.